Team leadership: a constant learning process
Learning how to lead a team is a continuous process. You always have to be curious and open, learn and grow together with this function. This also includes being able to put yourself in the position of the employees and to look at their concerns with empathy. "I have noticed that, especially in a company as ours, empathy helps a lot. Not only towards our employees, but also with our customers, partners and suppliers. In this way, you understand who you are dealing with and what the needs of that person are", says Evelyn. 

When it comes to dealing with her employees, she focuses on two key points which she sees as the major keys to a successful leadership: motivation and involvement. "It's important that the team feels involved into the company's actions to understand which goals, meanings and reasons result in certain decisions. If you exclude your employees from such things, at some point, you'll risk being left alone. If they feel involved in the actions of the company instead, they stay motivated", says Evelyn, who sets a good example every day. Her management style? A thought that she counts as one of the strengths of a good manager: not ask anything from your employees that you can't meet yourself.

Between challenges and success stories
Looking at the business sector in which Markas operates, there is one solid challenge on the agenda: the
successful integration of employees coming from abroad
as well as of migrants and asylum seekers that, especially in a service company like Markas, have very good chances to
find a job
and gain a foothold. Evelyn doesn't see Markas as a "social buffer" but she emphasizes the feeling of responsibility towards the employees. "Supporting employees coming from abroad and with different backgrounds is very important to us. For instance, we offer language courses as a part of our integration programme."
As one of the most
successful experiences
related to her everyday work, she describes the well-functioning team. A factor that not only gives her great pleasure, but also motivates her every day and strengthens her confidence in the
future-oriented development of Markas
.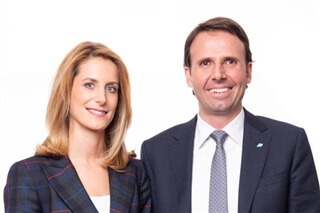 Management vs. being a wife and mother
Just like Evelyn, many women try to achieve the impossible in order to
reconcile work and family life
in the best possible way. An undertaking, that becomes even more difficult when you are working in a job that involves regular business trips and evening commitments. "My family is a great support to me and a fundamental part to reconcile everything. My husband not only supports me in professional matters, but also at home. Fortunately, we have two grandmothers and one grandfather that are helping us with the children whenever we have to perform our professional obligations. I spend the disposable time off with my husband and children. I love playing with them and watching them grow up."
Curious for more?
Read the
interview
that Anna Saccoccio, journalist of Rai Südtirol-Alto Adige, conducted with Evelyn Kirchmaier.
FIND OUT THE LATEST NEWS ON MARKAS' WORLD