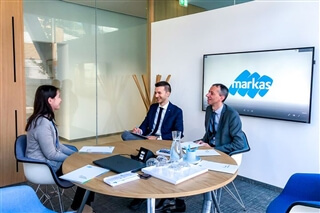 Challenges in the recruiting of young talents
Recruiting activities
Markas faces all challenges of attracting and retaining new talents with
targeted recruitment measures
including the participation in
job fairs at the nearby Universities
of Bolzano and Trento or
specially organised recruiting initiatives
: During the
Markas Recruiting Day
, 60 out of 200 applicants from all over Italy were invited to conduct a first 15-minute job-speed-date at the headquarters of Bolzano. In advance to that, the candidates had the possibility to apply for the job advertisements previously published in the local press and social media. During the interviews 4 people were finally selected to be invited to participate in the
Markas Talent Day
in order to discover their skills and transversal competences together with external consultants and to understand how they could be integrated in the company.
In the course of 2019,
recruiting via video interviews
was introduced. The digitalisation of this process makes it possible to make a first selection of the candidates invited to an in-depth interview in Bolzano. This means not only an advantage for the recruiters themselves, but also for applicants living outside of South Tyrol who therefore save travel costs and time for their journey to Bolzano. 
Activities in talent management
Where other companies stop, Markas really gets going: For the management level it's of great importance not only to find suitable employees, but also to support them in developing their skills in the best possible way. For this reason, the
Markas Leadership Program
was launched in 2017 with the idea of enhancing the leadership skills of regional, object, team and department managers as well as key account and area managers. One of the central topics was the management of talents within the company, which is based on the idea that every successful manager also strives for the personal growth of his team members.
In July 2019, the Markas Leadership Program was awarded with the
first place in the category "Talent Coaching"
of the Mario Unnia Award. The prize honours companies that continuously engage with the development of talents. 
"This year we have also launched
Markas Seeds
, a project designed to improve human resources. In particular the project aims at a structured development of some key skills as well as at the training of employees," concludes Evelyn Kirchmaier. "As a matter of course, we always try to develop Markas as an innovative company from various perspectives. But for all that our strategy will always be based on our values as a family business standing for sustainable growth and attention towards the people playing a part in Markas. This is why we have recently made another long-term investment – one of those only family businesses possibly are willing to make: The
construction of our new headquarters
in Bolzano. This new building has been designed with a particular attention to the well-being of our staff in mind and quite recently it has also been awarded with the
Well Gold certification
."
You are looking for a new job?
Click here
to find all our vacancies.
FIND OUT THE LATEST NEWS ON MARKAS' WORLD