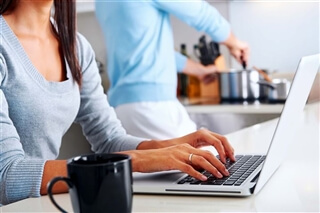 Our path to change

Markas' remote work scheme began in January 2018 with the aim to establish different and innovative work processes inside the company. A pilot project was first carried out for all the management staff at our headquarters in Bolzano, to then be extended to all Markas employees.

Throughout the entire planning phase, there were two key priorities; digitisation and the human element. Markas IT department worked hard in order to identify and build the right tools, programs and software that would facilitate such a digital transformation and allow everyone to work from home in a productive, stressless and comfortable way.

At the same time, Markas employees had to become accustomed to the new digital processes and communication flows, developing, in this way, their digital competences and creating opportunities for new relationships and collaboration within the company.
Of course, a holistic digital transition like this would not be efficient without applying an advanced feedback system and a step-by-step approach.
 
The 6 golden rules

After several months of research and testing, we learned the "6 golden rules" for successful remote working:
1) Working from home requires moderation. Therefore, it is essential that employees set themselves clear targets and work schedules and stick to them.
2) Taking time to get used to the new way of working is necessary and ensures a smooth transition.
3) Setting clear company rules or procedures and making sure that they are being respected is important.
4) Knowing when to disconnect.
5) Avoiding isolation. Keeping the team united and encouraging colleagues to 'share' moments virtually.
6) Finding the right work-life balance.

By following these rules, we managed to successfully integrate a new way of working into our daily lives. The outcome? 'Working smart, leading smart', which means great results, increased levels of motivation and a better work-life balance.

The winning ingredients? Result-based evaluation systems, continuous communication, structured feedback and above all a relationship based on trust and responsibility between managers and employees.