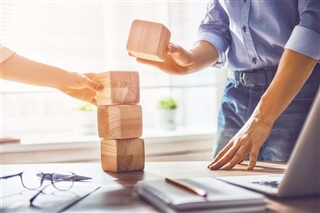 Workplace innovation starts with the people themselves 

At Markas, sustainability-driven innovation means inspiring actions and rewarding initiatives. We incorporate original thinking and creative solutions into every project and every working day. How? By constantly welcoming fresh ideas that embrace adaptability, diversity and promote meaningful progress towards a better future; a better future for our organization, our employees, our clients and above all local communities and our planet. 

Thanks to our commitment to quality, we never stop seeking new efficient solutions, while through the use of innovative systems and technologies, we continually increase our service excellence and productivity. In addition, thanks to a series of workshops, focused on different topics such as circular economy or 'smart cleaning' organized by Markas' Innovation Team in collaboration with the Environmental Compliance Department, our staff always have the chance to cultivate their creative thinking and actively contribute to generating more productive and environmentally-friendly processes and, therefore, to reducing our environmental impact. 

'Innovation is about connecting people with different backgrounds and sparking each other's creativity' says our Innovation Manager, Ana-Sofie Schneider. 'In our day to day work we quickly forget to look at the bigger picture and we often don't look left or right to see what other colleagues are working on. It is amazing what happens if you bring together people from different departments and ask them to work on an idea. Every individual has his or her own experience and perspective on things and together we can create something extraordinary'.
A sustainable Markas, a sustainable planet  

For Markas, sustainability is a key driver for innovation and success. And this has been the case even during the pandemic. 

A few months ago, through a dedicated online innovation platform, we invited our employees across Italy and Austria to submit their ideas and participate in Markas' Sustainability Challenge. 

The purpose? Giving a voice to all Markas' people, offering everyone the chance to openly express their ideas for a more sustainable work environment, promoting diversity of thought, encouraging open collaboration among different departments and promoting solidarity among employees. 

The outcome? Dozens of unique ideas were submitted and rewarded; all of them truly great and inspiring!

A total of 10 ideas were shortlisted in order to be further explored and possibly implemented with the aim of making our everyday life and services 'greener'. We are looking forward to watching them come into being!