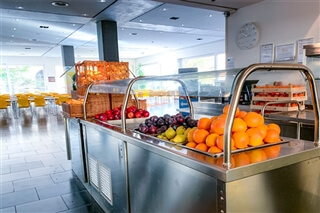 Best practice: the canteens of the Free University of Bolzano are "plastic-free"
Last year we have introduced various measures in the university canteens of the
Free University of Bolzano
located in Bolzano and Bressanone in order to make our service more sustainable. Among other things we have:
- introduced
fruit without any packaging
- introduced
paper napkins and placemats
, which are obtained from
sustainable forestry
and produced using water-based ink
- introduced
cutlery of steel and glassware
to reduce the usage of single-use tableware and plastic glasses which also means a significantly reduction of waste
- introduced spices, vinegar, oil and lemon juice offered in
glass containers
or
100% recyclable PET
- removed cling film
from cold dishes and salads
- introduced the utilisation of
Ecolabel-certified cleaning agents
, which guarantee high performance with full respect for the environment
- replaced single-use aprons with
cotton aprons
In order to check the transposition of our measures, a selected working group, coordinated by our
Compliance & Environment Department
, performs regular and specific inspections.
Healthy nutrition and waste reduction
Other important steps have been taken in the dishes we serve and in our activities. Amongst others, we daily offer
fresh fruit
and
bread from local bakeries
. Furthermore, we regularly provide useful information material in the
university canteens
to keep the students interested in the topics of "sustainability". This includes:
- panels to illustrate the
food and environmental pyramid
as well as useful tips for a healthy nutrition
- information about products
being used in the canteens and
details about the FSC or Ecolabel certification
- regular
events
that Markas undertakes in its customers' canteens. An example of this is the theme week "
Gastronomy, Quality and Regionalism
", which was organised in 2019 together  with the Free University of Bolzano/Bozen.
In 2019, a major step towards waste reduction was taken in the university canteens: the
Markas Doggy Bag
was introduced to offer the possibility to take leftover food at home and thus
reduce the waste of foods
. The Doggy Bag itself is made of cellulose; a completely natural and compostable material that can be disposed together with organic waste. The cellulose itself is extracted from the sugarcane stem which means that a new life is giving to an actual waste product.