Homemade ice cream: tips and recipes
Homemade fruit-based ice cream can be an original and creative solution to combat the summer heat, and at the same time it can be a great healthy snack.


Fight the heat and hydrate

In summer, we sweat more and therefore we lose more fluids.

In cases like this, various national and international scientific associations agree on one fundamental thing: rehydrate continuously! In fact, we should drink at least 1 ½ - 2 liters of water per day and consume five portions of fruit and vegetables per day. 

And here's a little insight: fruits and vegetables, in fact, are rich in water, mineral salts, vitamins and fiber - all substances that have beneficial effects on our body. And homemade fruit-based ice cream can be a tasty, healthy, fresh and easy-to-prepare snack. No need to use ice cream maker or to add sugar or other foods. It's tasty by itself! 

Fruit ice cream: this is how to make it at home

You can use your favorite fruit, create a mix of different fruits or make several ice cream flavors according to seasonality and availability.

According to LARN's (Livelli di Assunzione di Riferimento di Nutrienti ed Energia) guidelines, the standard recommended portion of fruits is 150g per person. 

Now let's start preparing our ice cream!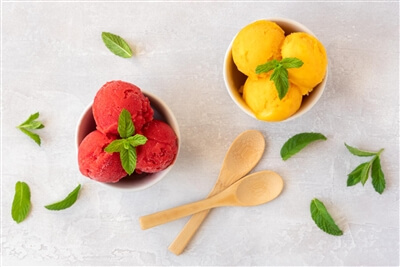 First of all, feel completely free to choose the flavors you like. For example, you could use blueberries instead of blackberries or even mix raspberries with watermelon. Just be creative! You can also choose which fruits to use according to what is in season.  

Wash the fruits, clean them and cut them into little cubes. Obviously remember to remove the parts that are not eatable, for example, melon seeds, the woody parts of a pineapple, mango skin, or strawberry stems.

Place the cubes on a tray making sure they are not overlapping each other. Cover the tray and place it in the freezer until fruit cubes are hard and frozen. Then you can place them in a freezer bag or a container with a lid. Let them freeze for at least 12 hours.

Once they are properly frozen, simply remove them from the freezer. Put them in a food processor and mix until smooth and creamy.  

If you wish to make your ice cream a bit more creamy you can add milk. Alternatively you can also add a healthy topping such as dried fruits, hazelnuts or almonds. 

Now all you need to do is enjoy your bowl of ice cream!