Hotel housekeeping services that take care of every detail
The advantages of our service
Highly trained staff

With more than 650 highly qualified housekeeping professionals, collaborations with five of the most prestigious hotel groups across Italy and more than one million clean rooms per year Markas provides the service excellence that our hotel partners are looking for.    

Also, our organizational model with dedicated on-site customer support specialists allows for an efficient work flow management system that ensures quality, promptness and at the same time a comfortable stay for hotel guests. 
Financial credibility means long-term stability and security

We have always ensured the financial stability required to guarantee our clients long-term service quality.

Thanks to our business continuity, Markas belongs to the 7% of the few Italian enterprises that have been given the 'Cribis Prime Company' award.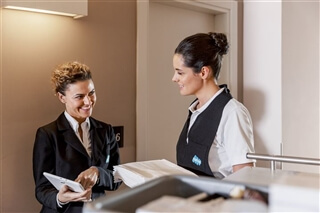 Quality control systems for maximum guest satisfaction

Our innovative control systems permit us to constantly monitor the quality of our services and offer online review tracking in real-time. As a result, we have obtained a 81% TrustYou satisfaction rate for our cleaning services.    

Appointing a structured company to provide the housekeeping service and become an integral part of the hotel team ensures simple and effective achievement of the ultimate goal: customer satisfaction.