Markas: it all started with a cleaning service contract
From the very beginning Markas has operated in the world of services as a family-owned company, synonymous with sustainable growth and attention to people.

Today this spirit is being carried forward by the second generation of the Kasslatter family and the Group's employees, over 11,000 in total. In over 37 years of business we have grown from a few dozen employees into a leading international company in our sector. Along the way we have always believed in the importance of making choices that will guarantee the soundness and future of our company.

Our many long-term investments are tangible proof of the desire of Markas to continue to grow, gradually and sustainably, with respect for ourselves as a family business and with the foresight that has always distinguished us.
Markas in milestones
1985
Markas is founded on 15 May in Bolzano by Mario Kasslatter and his wife, Haidrun Achammer
1985
Markas wins its first Clean contract at Cuneo City Hospital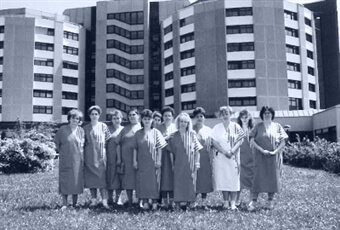 1986
Markas Austria is founded on 29 August in Baden, Vienna. The first customer is the "Landesklinikum Thermenregion Baden"
1992
Markas Italia manages its first Food contract for the hospitals of Tregnago and Soave in the province of Verona
2007
Markas Austria for the first time introduces an in-patient transport service in the Natters contract
2009
Markas Romania is founded on 1 January with Florian Kasslatter appointed managing director
2010
Mario Kasslatter hands over direction of the Group to his sons Florian and Christoph Kasslatter
2012
Markas Day in Bolzano on 7 September as Christoph Kasslatter shares the company strategy with over 300 employees
2017
Markas Germany is founded on 20 September, headquartered in Munich, Germany
2017
Markas Italia opens its first ready meals plant on 4 October in Vigasio in the province of Verona
2017
The foundation stone for the new Markas Group headquarters is laid on 25 May in Bolzano
Over 37 years of history
It all started with the entrepreneurial dream of Mario Kasslatter, a man who turned self-determination into a way of life. Born in a small village in Val Gardena as the nineteenth of twenty children, at just eighteen years of age he moved to Austria to begin a course in mechanical engineering. Having successfully completed his studies, his tenacity and desire to get involved led him to take on various managerial roles, both abroad and in Italy. These in turn drove him further towards realizing his dream: that of starting his own business.
 
Thus in 1985 Mario and his wife, Haidrun Achammer-Kasslatter, founded the Markas company in Bolzano. Mario immediately imparted to the company the vision that would guarantee its success in the years to come: "In the long run, only quality counts." Success was not long in coming and for over 30 years has formed part of the company's story. In 2011 Mario and his wife, Haidrun, today Group President, handed over control to their sons Florian and Christoph, together with the latter's wife, Evelyn. In
2022
, the corporate governance changed hands and Christoph and Evelyn have been entrusted with the leadership of the company. Mario Kasslatter passed away on 24 August 2013: we continue on our path to growth each day guided by the values that Mario has left us, namely reliability, commitment and fairness. Because the more we grow, the more important it is not to forget what permitted us to grow in the first place.