Corporate innovation starts with us
Innovation is a staple of our philosophy, a principle that we apply to all areas of our activity.

It is a way of everyday thinking and acting that forms part of the DNA of our staff, who constantly strive to find the best solutions to the increasingly complex needs of our customers.

Innovation will also be increasingly present in our services thanks to the introduction of a team dedicated to seizing the opportunities offered by new technologies, thus allowing us to remain one step ahead.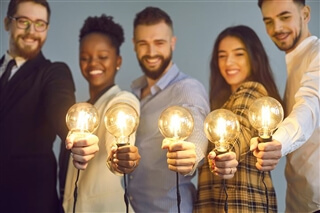 Innovation starts from people
Innovation in Markas means, among other things, organizing moments of inspiration and exchange with our employees: from the
Markas Innovation Day
, attended by more than 400 people, to various workshops in which different departments are involved with the aim of developing specific projects, to the Idea Days, during which we were able to collect numerous ideas at the last edition. The aim of these initiatives is to be inspired by new impulses and innovations, to develop ideas and to incorporate them into specific Markas projects.
Technology at the service of the customer
Through digitized methodologies and processes, Markas offers increasingly efficient and effective services in every sector. In addition, Markas analyzes, studies and researches the trends of the present and the future to ensure that innovation, such as robotics and artificial intelligence, becomes more and more an instrument of growth for the company. In every single area, technology helps us to offer the customer better and better service.
The production plant dedicated to sous-vide
When innovation rhymes with quality. In 2017, we inaugurated our first food plant in Vigasio, in the province of Verona, which can boast a production capacity of 15,000/20,000 kg per week and records an annual output of 350,000 kg. The Markas production center, among the most modern in Italy for innovation and technology, is specialized in the production of food with the innovative sous-vide technique: a cooking method that combines food safety and taste and that Markas uses for collective catering.