What inspires a chef?
Every day, thousands of meals are prepared across Markas' cooking centers by our food experts. They are nutritious, balanced and made with passion and love. 

But have you ever wondered who are the key protagonists behind these meals? There are certainly many! 

We caught up with a few of our cooks and chefs in order to find out the way they experience food and what inspired them to follow this path. Passion, discipline, ambition or something else? This is what they said!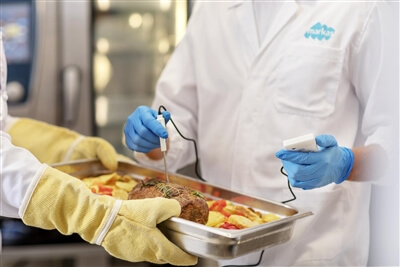 Food and cooking runs in the family, so to me food is life. I grew up in a family where food was such an important part of our daily routine. My family owned a small trattoria, a grocery shop and a small guest house so I was literally surrounded by food. Therefore, becoming a chef has always been my dream. Since the age of 8 I had a passion for cooking. Back in the day, I was waking up and I was preparing breakfast for everyone, and this used to make me so happy. I still remember how passionate I was about helping my mother or my grandparents with the restaurant. So as soon as I grew up, I went abroad in order to study and expand my culinary horizons.

If I had to give one piece of advice to all young aspiring chefs out there, I would strongly encourage them to go away from home, focus on their goal regardless of the sacrifices, see and learn new things, and keep challenging themselves. 

Today, after many years of running restaurants and cooking, nothing has changed: my love for cooking is still the same. Now, I work at 'Ospedale Valduce'. Preparing meals for patients it is a great responsibility as you deal with really fragile people and through your work you need to support their recovery.

Filippo Ronchetti, 57, 'Ospedale Valduce', Como, Lombardy
 
I've always loved cooking. Being a mum myself, healthy and balanced meals for my kids have been a priority for me. And exactly that was my greatest inspiration: making people and, above all, kids love healthy food and making them happier through my dishes. Looking at my customers' happy faces and hearing their positive feedback is deeply rewarding. 

In fact, one of the most inspiring and satisfying moments in my entire career was while I was visiting one of the primary schools I cook for. A young boy approached me. With a huge smile on his face he said 'this vegetable soup is a 5-star soup!'. And let's admit it, it is not easy to make kids love vegetables!   
 
Following this career is not easy. It requires a lot of time and energy so you should really love what you do and always be open to learning new things; that's the only way to progress and become better. 

Giulia Graziano, 46, Centro cottura di Trecate, Novara, Piedmont   
I arrived to Italy when I was 20. I didn't speak a word of Italian but I really needed a job. So I started washing dishes at a small restaurant. I had already attended a hospitality school but I had never imagined that I would hold such a passion for cooking. One day the cook of the restaurant I was working at left and the owner asked me to help with the cooking. And that's how my life-long passion for cooking started! 

Now, several years later, I cook for the residents of a retirement home and so far it has been a very interesting journey. Throughout my career, I learned to express my ideas through my dishes and to find inspiration in fresh and seasonal ingredients. But above all, I learned how to listen, how to be humble and how to have respect for my colleagues, my clients, the ingredients I use and the environment. And, in my opinion, these are the characteristics that can make a great chef! 

Sava Maria Timis, 40, Casa di Riposo Villa Belvedere, Treviso, Veneto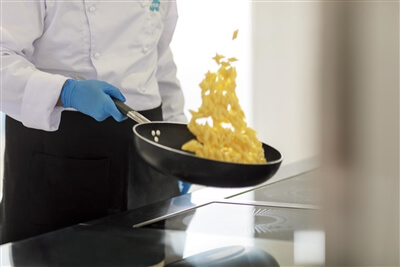 I discovered my passion for cooking around the age of 13. It was my curiosity for food that really inspired me. I remember myself at parties and big celebrations; while everyone else was trying to enjoy, my aim was to observe the preparation process of every single dish, and get to know all the different ingredients the cooks used. 

And although I spent the beginning of my career working for a pastry shop, for the last 25 years or so, I've been dedicated to cooking for hospital patients. Why? Because everyone deserves an enjoyable meal and that's what I am trying to offer!

Being a cook is not the easiest profession. But the secret to success, apart from the love for what you do of course, is precision, organization and cleanliness. That's the only way to create balanced dishes that respect certain rules and are still delicious!   

Anna Maria Rosetti, 63, Ospedale Carlo Urbani, Ancona, Marche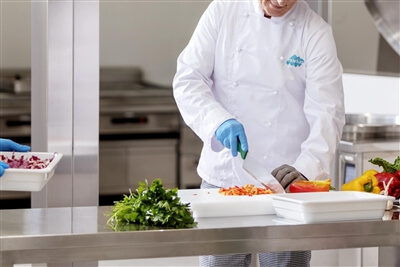 Cooking for me is a form of art. I always liked painting but in the end I pursued a career in the food industry. The process of culinary creativity truly inspires me and exposes me to new ideas and improved dishes. 

Creativity and passion play a key role in my life. I particularly enjoy adding a fresh twist on existing dishes. In this way my clients never have to eat a boring dish! 

However, you need to be able to combine creativity and discipline. Being a chef is mentally demanding. It means missing holidays or weekends, it means dedication, as well as sacrifices. But, as long as you love it, it's all worth it!  

Elena Zucchi, 52, Mensa universitaria Rizzi - ARDIS, Udine, Friuli-Venezia Giulia 
I was always underperforming at school as I had simply no interest in the subjects taught. But when my father enrolled me in a cooking school, a whole new world opened up to me. I loved studying the different ingredients, the impact of food on our health and the energy and nutrients that each recipe provides. And of course, I loved preparing my own dishes and share them with others. 

For me cooking means sharing. You share important moments and common goals with your team and at the same time you bond with your clients through your dishes.

Now, I work at a retirement home in Pontevico and occasionally I visit the residents in order to receive their feedback. From time to time, I get to hear their own culinary stories or old memories around the kitchen table. And all this reminds me that, after all, food is deeply linked to we are and it can really bring us closer! 

Marco Torresani, 46, Casa di Riposo Fondazione Giroldi Forcella Ugoni, Pontevico, Brescia