Establishing an innovation culture inside your organization
Establishing an innovation culture is not always a very tangible process and for sure it is not a very straight-forward one. Nevertheless promoting creativity and innovative thinking can have many benefits for a company like improvements in efficiency, cost-savings, higher client-satisfaction or new business opportunities. 

So, what are the key factors in creating a culture of innovation inside a company? During a very interesting discussion Markas' Innovation Manager, Ana-Sofie Schneider, shares her thoughts on this  prominent topic.  


Why is building an innovation process important?

Markas is a leading cleaning and catering services business predominantly in the healthcare sector. Especially the cleaning sector is a very dynamic and highly competitive market, but it hasn't necessarily been known for its ground-breaking innovations. However in the past years things have changed and new exciting developments are opening new possibilities such as digital transformation which goes beyond mere digitalisation. 

The catering sector has slightly different dynamics and novelties have always been more common in this industry. But generally speaking, it is important to stay up-to-date and also foresee new developments in order to be able to reach out for new, viable opportunities. Additionally, it is equally important to tap into the ideas and experiences of employees, customers and partners. 

A well-defined innovation approach can make all the difference in how fast a business reacts to new ideas and opportunities. 

What is the key barrier to innovation?

When starting out on the innovation road, employees and managers need to understand what innovation means and what the strategic goals for the company are. 
So, constant communication on all hierarchy levels is the most important aspect in order to get executives and employees across the entire organisation to comprehend and experience innovation. 
Therefore, it is crucial that the top managers are up for the change and go ahead as strong role models. 

This is vital because the top management needs to carry and disseminate the change by inspiring their own employees to think and act in a creative and forward-looking manner.


How can companies involve their employees in innovation? 

Employees need to be given the opportunity to approach ideas. They need to experience innovation and be part of the process. This sounds quite simple but in a busy work environment and work days cluttered with meetings and deadlines developing ideas and being creative can be a challenge. 

We, for example, try to involve cross-functional teams in all phases of the innovation process by using different workshop formats and by providing different Design Thinking tools. This allows employees to develop original ideas or evaluate the feasibility of new projects. At the same time people from different departments have the chance to get together and exchange their experiences. So there is a strong team-building component, too. 

However, co-workers are not always happy when things change and new innovation projects are launched. People are generally resistant to change and the same can happen when developing an innovation culture. Employees need to understand that innovation is not something extra, like extra work for example. Quite the opposite, it can be an advantage for the company.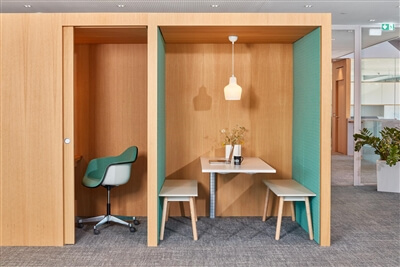 When it comes to everyday work life, what are the key steps for enhancing innovation among employees?

The first step is to have the buy-in by the top management. If they don't support innovation it will be very difficult to implement an innovation programme. 

Office design  also plays a pivotal role as it can promote team work and creativity. Markas' headquarters in Bolzano for example offer many great locations where we can organise workshops and be creative. This makes a huge difference. It is important to realise that change does not come quickly, especially for more traditional companies. Doing small steps towards agile working methods, like Scrum or Kanban, and introducing some smart tools that can be easily applied by everyone can be a good starting point. 

Communication, as previously mentioned, is also key. Individuals need to clearly see that something is starting to change. So companies should not focus solely on long-term projects but also on some so-called quick-wins. People are more likely to speak positively about innovation if they have been part of the process and are proud of the results.