Make your own homemade play dough with natural colors
Are you looking for ideas to spark your kids' creativity and teach them how they can follow a 'greener' way of living?  What about making play dough using natural ingredients at home? Here is how!

To start with, choose the color of your play dough: avocado seeds for creamy beige, cabbage for purple pink, coffee for light brown, turmeric for vivid yellow, matcha tea powder for green.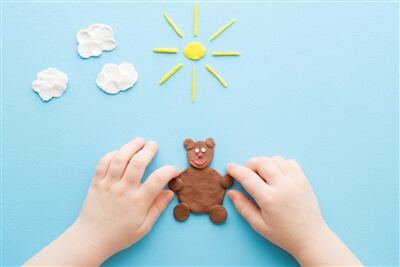 Avocado for beige
Take 2-3 well rinsed avocado seeds and place them into a pan. Cover them with water and simmer on medium heat until the water has become beige (approx. 20 to 30 mins).
Use the water following the play dough preparation instructions below. 

Cabbage for purple pink
Place ½ cup of grated red cabbage into a pan. Cover it with water and shimmer on low heat until the water has changed color (approx. 20 minutes). Use a strainer to separate cabbage from water and use the water for coloring your play dough according to the preparation instructions below.   

Coffee for brown
For making coffee play dough simply prepare a cup of coffee. Mix it with a handful of coffee grounds and add it to your mix following the dough preparation instructions. 

Turmeric powder for yellow
For adding a shade of yellow to your play dough in a natural way, you can use a tablespoon of turmeric powder. Simply add it to boiling water and wait until water has turned yellow. Then continue with the dough preparation as per instructions. Be extra careful and make sure your kids will play on a tray as turmeric can stain. 

Matcha tea for green
Add 2 spoons of matcha tea powder to a pan with boiling water and simmer for 20 mins or until the water has become green. Use the water following the play dough preparation instructions below. 

Now that you have chosen the right color, it's time to start making your natural play dough mix. Simply follow our instructions!

Ingredients for the play dough
250 gr. cup flour
2 tablespoons vegetable or coconut oil
140 gr. table salt
2 tablespoons cream of tartar
350 gr. warm colored water (depending on the choice of color following the color instructions above)
3-4 drops of glycerin

Play dough preparation
Mix together the oil, flour, salt and cream of tartar 
Add the warm colored water 
Stir continuously until it becomes sticky and smooth
Add a few drops of glycerin to improve elasticity. 
Let it cool down for 15 mins. Then knead it for a few minutes until the mix has become less sticky and has reached the right consistency. If your mix is too sticky try adding a bit of flour. 

If your kids get tired or bored with it don't worry you can preserve your play dough and reuse it. Simply store it in an air-tight container out of the sunlight or in the fridge.