Office design in 2022
Work environments can influence not only a company's culture but also staff's motivation and productivity.
In today's post-pandemic era where more and more companies are adopting a hybrid work model, what are the key challenges that companies face in terms of office design in order to continue to motivate their employees?  
Flexible working spaces for connectivity and creative thinking
Digital transformation has changed the way companies operate. Employees, particularly those of younger age, expect connectivity in every space and at the same time they are looking for more dynamic office environments. 
In order to face this rapid evolution of workers' needs, companies need to create activity-based working spaces, which go beyond an open office.
'
Listening to your employees is crucial. During the design process of Markas' new headquarters in Bolzano, we created a team of representatives from every department and asked them to list their priorities and requirements. We took into consideration their needs as well as the various collaboration patterns among different offices. We wanted to create spaces that would foster a culture of connectivity and innovation. Therefore, throughout our collaboration with Vitra, we followed a human-centric approach. And this is the future of office space design; no fixed desktop computers or desk drawers. Instead, we emphasized on flexible working, on creating dedicated areas for every moment of our working day: coffee-break areas, lounge areas, conference rooms, smaller meeting rooms, private discussion spaces as well as stress-free meeting spaces
' explains Michela Fabbro, Corporate Image & Design Manager at Markas.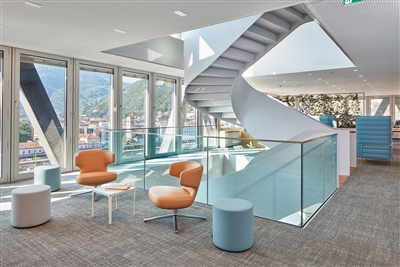 Every space of the office should be designed according to employees' needs in order to promote creative thinking, efficient collaborations between different divisions and a culture of connectivity across the entire organization. 
'
The social factor has always been an important aspect of a work setting. After our experiences during the pandemic, the desire for a place where people can gather and interact seems to be greater than ever. This is why such a space is essential - it is the starting point for collective productivity'
says Tim Reusch,
Vitra
's Head of Consulting & Planning Studio.
The importance of expressing brand values and corporate culture through design 
Embodying solid corporate values and culture in the workplace is crucial. According to Tim Reusch '
companies with strategic ambitions recognize the dimension of an interior as a tool. The office is not just a place of production. It's a platform for people - to live the company culture, to be visible as employees, to implement visionary ideas. In short: to work together and help achieve the company's success
'. 
Businesses now need to focus on consistency and true commitment to what they represent. In other words, they need to reflect on how to bring their brand values to life through design. What values do your company offices, reception or meeting rooms communicate? Glass walls for example add a sense of openness and teamwork while innovation is often enhanced by knowledge sharing, or cross-boundary teaming and therefore, through dedicated spaces that promote collaboration among people from different departments. 
Consequently, apart from the usual corporate elements, such as logos and brand colors, the layout, the choice of materials, furniture, fabrics and finishes are also extremely important in conveying the right messages to employees and stakeholders.  
'
At Markas, reliability is one of our key values. For us reliability means transparency and safety, and this is exactly what we wanted to express throughout our headquarters in Bolzano. So, during the construction and design process we paid particular attention to the choice of materials and fabrics. We wanted our employees and stakeholders to feel safe in their workplace  and be able to trust us. The entire building, from lighting and flooring to walls and finishes, has been awarded a WELL Gold Certification, which verifies the quality of the office space in the most transparent manner
' says Robert Mantinger, Markas' Head of Facility Management and Maintenance.      

Office design that promotes environmental and human wellness. 
Now more than ever, job seekers consider both,
sustainability
as well as wellbeing at work, key decision factors when applying for a new job. So creating a work space that successfully conveys a company's efforts towards sustainability  and comfort can affect talent acquisition as well as efficiency levels. 
'
Color selection can have a major impact on employees' mental health. At Markas, for example, we selected nature-inspired colors that create a sense of calmness. Colors change from floor to floor as we wanted our interiors to be harmonized with nature and what we see when we look out of the window; the ground floor is characterized by earthy, warmer colors that gradually change to green and then to sky blue as you reach the top floors
' explains Michela Fabbro.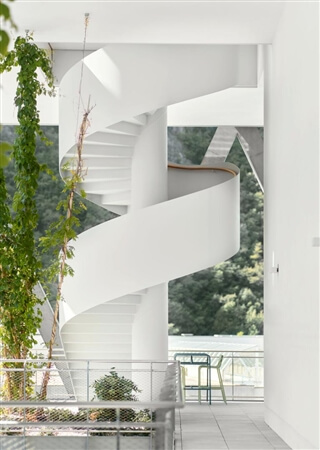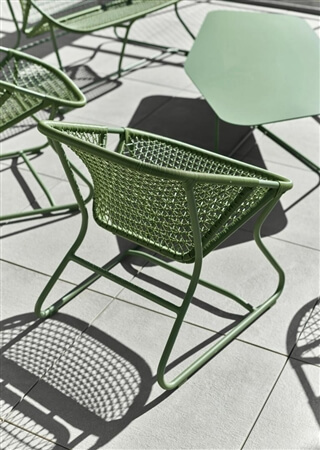 Also, businesses need to put more emphasis on the use of environmentally friendly materials, and other design elements that contribute to workplace well-being. For instance, encouraging staff to use stairs, creating green spaces or physical activity areas significantly contributes to the health of employees. Using natural safe materials, office plants or large panoramic windows can increase natural light, satisfy human's desire to be closer to nature and therefore increase comfort and productivity. 

'More and more companies focus on energy and waste management. And this is becoming important part of the office design process as well. At Markas, we really focus on minimizing waste and this is also expressed through design. For example, throughout our offices in Bolzano we have applied a 'no waste bin' policy. What does this mean? Across the entire building there are no personal individual rubbish bins. Instead, we have replaced these with easily accessible recycling stations located on every single floor.' says Robert Mantinger. 'Sustainability is and will continue to be at the forefront of office design'.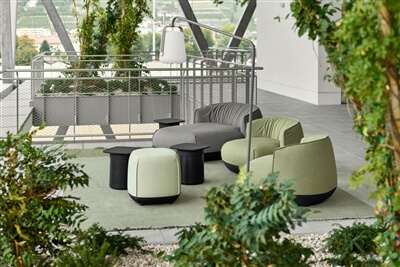 Photo Credits: Vitra /ATP