How will AI and robotics trends transform the service industry?
The service industry has witnessed many changes during the last years, from automation to digitization. Will we continue seeing a big growth when it comes to AI and robotics and will cobot automation play a key role in services?  What are the key robotics trends in 2023? 

Robots and cobots in the commercial cleaning sector will unlock new capabilities

The cleaning service sector has always been subject to change, but the recent pandemic has really influenced the cleaning industry. In the last five to seven years, the industry has witnessed revolutionary innovations and new technologies from automation to digitization. Many companies are already proposing new automated solutions to be introduced in the world of industrial cleaning. 

So in 2023, we will see more IoT sensors used for data tracking and collection as well as new robots or cobots, that will collaborate more closely with the existing workforce to create super teams. Overall, new technologies will not only make processes more efficient and support the existing workforce, but also they will enable the delivery of better services and improve the user experience.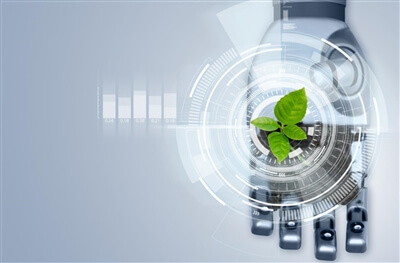 Wearable devices for more health and safety at work

Wearable devices to support cleaners and workers are increasingly becoming a new trend and are being integrated into the workplace. For example, multifunctional watches can promote well-being and safety at work by tracking health data such as heart rating or oxygen level as well as providing data that can be critical when it comes to productivity, resources and workloads. At the same time, wearable 'exosuits' or 'exoskeleton robo-suits' are being tested in order to help workers cope with specific daily tasks that require extra physical strength such as lifting heavy objects, avoiding, in this way, back injuries and maintaining a correct position while working.

Helper bots working side-by-side with humans in the healthcare industry

In 2022, we saw a lot of pilot projects rolling out in the healthcare industry: from robots that carry medicines across different wards in British hospitals to cobots supporting nurses in American healthcare institutions. 
While it's still too early to say if these trials can really have a huge impact on the healthcare sector, we expect to see more robotics and AI at the service of social and health care in order to assist workers rather than replace them.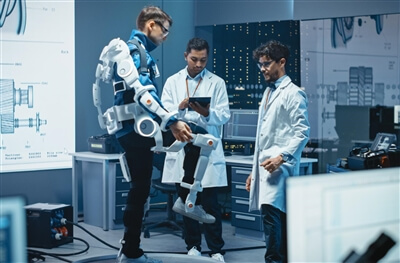 More robotics and AI solutions in the food service industry
When it comes to the
catering service
, AI will continue to provide interesting solutions and new opportunities for a number of processes linked to food production and service delivery. 
New AI solutions have been introduced for waste management, more eco-friendly farming and food production. Smart packaging, for instance, with the use of RFID tags can allow food suppliers to better track food quality conditions while smart refrigeration systems can optimize food storage. Also, we see more and more robots specializing in cooking, serving dishes or transporting empty trays to the dish washing areas. 
However, it is likely that they will provide support across specific areas not in complete autonomy but alongside humans who will monitor them. In this way, they will allow workers to focus on more important activities, letting the robots perform the most repetitive tasks.