How to make your own Carnival mask!

Music, flavors, colors: the Carnival season is finally here! So what about adding a colorful touch to your daily life and bring a bit of Carnival home? This is how to make your own carnival mask for you and your kids by reusing old or recycled materials. Let your creativity flow and teach everyone at home the importance of reusing and recycling! 

Ready?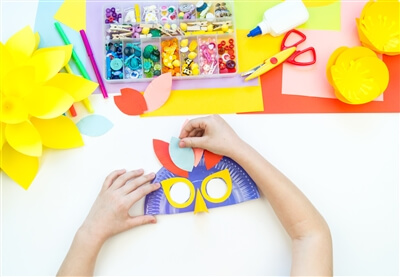 Select an old paper plate that is big enough to cover your kids' face. 

Using a pair of scissors cut it in half. In this way you can make one more mask for another member of the family or a friend! 

Make two holes for the eyes and a U-shaped hole for the nose. 
 
Next step? Be creative! Use natural colors, leftover gift-wrapping paper, old unused objects such as buttons or even natural materials such as leaves in order to personalize your mask and make it colorful and unique! 

Finally, attach a recycled straw or chopstick to one side, preferably on the back side of your mask, and glue it with tape or glue so it remains stable. 

And...your mask is ready! Happy Carnival!