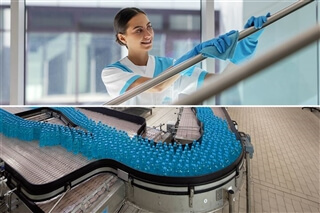 Optimizing food & beverage processing plant cleaning. Partnering with Ferrarelle.
A high quality food and beverage processing plant cleaning service is a must-have for safe and smooth business operations. 

Our well-trained team of experts is very well aware of the potential challenges associated with this type of facility as well as the high levels of attention required in order to clean spaces and surfaces that come in touch with food or drinks.  

That's why choosing Markas, a cleaning business partner with a deep knowledge of food quality assurance protocols can minimize risks of contamination and therefore improve a company's performance.   
Partnership:
Ferrarelle S.p.A 

Location: 
Italy

The challenge: 
Ferrarelle S.p.A. is a 100% Italian company operating in the bottled water industry in Italy but also internationally. The brand's natural effervescence is synonymous with high quality and excellence since 1893.

With several offices, bottling and distribution facilities across Italy, Ferrarelle S.p.A. always aims at providing consumers with maximum quality and safe products, while contributing to a '-1 impact' world; a philosophy which means 'absorbing more than emitting' and that is at the heart of the company's activities.   
   
Therefore, together with Ferrarelle S.p.A., we developed an efficient cleaning process that would meet the different needs of each zone and would guarantee maximum cleanliness even in the most heavily soiled areas such as production lines and conveyor systems.   
Our approach: 
It all started with building a trustworthy relationship based on honesty and reliability. As both parties wanted to make the most out of this long-term collaboration, we followed a made-to-order mapping process based on Ferrarelle's needs; preliminary meetings took place in order to better understand each other and define a common business purpose. The ultimate goal? Quality and sustainability!

Markas designed a bespoke cleaning process that would be suitable for food processing areas, production lines, storage spaces as well as offices and external areas. Our cleaning package included three different levels of cleaning and sanitization: daily routine cleaning, special periodic cleaning and on-demand disinfection services.  

At the same time, we ensured safe and eco-friendly cleaning methods, without compromising on quality, by using eco-friendly products.  Also, with the use of advanced equipment and systems like Markas System, an innovative system that allows us to constantly monitor our cleaning services, we achieved maximum service efficiency and less water waste. In addition, by constantly monitoring the progress of each service we could react immediately, and offer extra support or additional disinfection services during delicate situations such as the pandemic.
The result:
The unique combination of our expertise in
disinfection
and food services enabled us to offer the ideal cleaning solution to Ferrarelle S.p.A. facilities, located in Darfo Boario Terme.   
'Quality, safety and environmental protection are key priorities for Ferrarelle S.p.A. That's why we trust Markas with the sanitization of our facilities in Darfo Boario Terme.

Markas' food and beverage processing plant cleaning services allow us to exceed the high standards of hygiene required in order to guarantee our consumers absolute safety - says Marcelo Astrini, Director of Ferrarelle's production facility in Darfo Boario Terme -. Our mineral water is special and unique thanks to more than 615 quality controls that take place daily as well as several food safety certifications that are updated and renewed annually'.  
The result? Exactly what Ferrarelle desired; maximum quality and safety in a sustainable way!   
Learn more about our professional cleaning and sanitizing services.