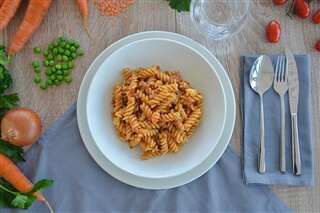 Listening to our clients' needs

The excessive consumption of meat products, as well as the emissions generated by it and its impact on the environment, have lead many of us to seek for alternative and more ethical types of meals and work lunches.

As more and more people are changing their eating patterns and are opting in for more sustainable diets, such as the Planetary Health Diet, being able to continue to guarantee a balanced menu, which offers enough choice to everyone, has been a top priority for Markas.

And that's exactly what inspired the creation of the new plant-based ragout. Because we, at Markas, believe that every single person should be able to enjoy their lunch at work as much as they do at home.
The story behind the dish

Markas' plant based ragout is the result of several months of continuous search for innovative raw materials, ingredient research, recipe development, sensory evaluation and a lot of team work and effort on behalf of Markas' cooks, chefs dieticians, technologists and other food specialists.

The ultimate objective? Create a more conscious food choice for vegetarians, vegans, flexitarians and, in general, people who still enjoy eating meat but wish to reduce their meat intake. And all this, without compromising on the flavours and aromas of a traditional ragout dish.
The final result: a healthy and tasty dish for a healthier planet!

Based on three key types of ingredients, legume proteins, vegetables -including onion- and tomato sauce, Markas' new plant-based ragout matches the taste of a typical meat sauce in an entirely meat-free way.
The sauce is rich and juicy while its consistency, flavour and texture have nothing to envy to a traditional ragout dish; a great option when it comes to pairing it with pasta or lasagna!

If you still haven't tasted it, look out for it at Markas' company canteens and corporate restaurants across Italy, where it's being served since November 2022.