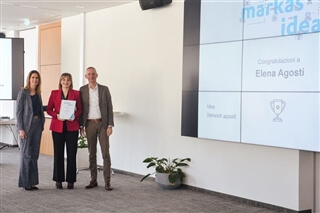 Markas Ideas 2022
Markas Ideas is a project designed for
employees
of all levels and backgrounds. It demonstrates the company's trust in its employees when it comes to making changes and improvements.
More specifically, as part of the challenge, all employees were invited to express their ideas and propose innovative company solutions with the aim of fostering collaboration and a stronger sense of teamwork.
The project has been a real call for ideas in which our people were the protagonists and were able to use their creativity in order to find alternative business solutions and approaches.
The ideas, after being uploaded and submitted individually or in a group to the dedicated portal, were evaluated based on certain criteria such as feasibility, sustainability, relevance, originality and financial value among others.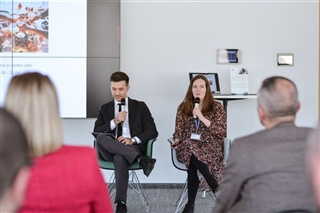 What was the outcome?

The first edition of Markas Ideas had a huge response. In fact, 69 ideas were submitted, more than 70 percent of which came from workers based in our clients' premises, and it involved more than 60 employees.

The regions with the highest participation rates were Trentino-Alto Adige and Piedmont, with 24 and 19 ideas submitted, respectively, while interesting ideas also came from more distant locations, such as Sicily and Sardinia as well as Austria.

This data demonstrates that Markas Ideas offered everyone the opportunity to take part in the company's transformation, despite the distance.

In order to celebrate the best proposals, there were 9 winning ideas based on the Platinum, Gold, Silver and Bronze categories. The awards were given during a dedicated event that took place simultaneously at Markas' offices in Bolzano and St. Pölten.



And now what?

Following the award ceremony, the execution of the ideas will be evaluated, and participants will be contacted to receive further information and updates.

Through this project, Markas has shown its strong faith in the innovative power of its people and their potential.

The first edition of Markas Ideas has definitely laid the foundation for the company's transformation in the future.



 
What people said

"What I appreciated the most is the contact with company, the simplicity of being able to visit the headquarters, meet the owners, and talk to them. This brings us and the company closer together" says Ornella.

"I was particularly surprised that almost all the ideas came from colleagues that don't work in our offices but are based in our clients' premises, which for me is the right target audience! Working onsite, we face all kinds of challenges on a daily basis, and when I talk to colleagues from other locations I always learn something new. Each client and each location have different tasks to tackle, and you end up becoming very resourceful" claims Sabina.

"The value of this initiative is making people feel part of Markas' family and its business growth because of the involvement of people and their desire to improve" says Domenico.

"I realized that across different business sites and locations, there were great people who had the opportunity to make a difference; each of us was able to express our uniqueness, demonstrating that we can (and should) expand our skills for the benefit of the whole company. 'Markas Ideas' is an initiative that can bring outstanding results" concludes Antonella.