Advanced User Experience

Markas' SmartLogistics service is supported by a user friendly and highly intuitive platform that provides accurate and tracking of the patient's transport inside the hospital.

Furthermore, the platform can be accessed and used in different ways such as via web, app, smartphone or tablet, and it includes a built-in notification system.

 

Time calculation and traceability 

Apart from traceability, SmartLogistics service can also optimize patient transport planning. How?

Through task monitoring and data analysis the platform can identify hospital peak hours and at the same time provide an estimated time of arrival and a recommended departure time. In addition, it updates the user regarding the remaining minutes to destination and can track, in real time, the routes taken by the operators.

In this way, Markas' certified service guarantees traceability, time efficiency and, therefore, a safe and more transparent patient transport.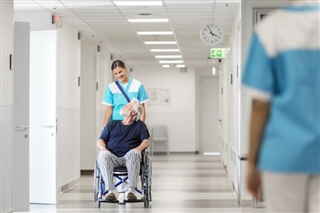 Optimizing and reporting
Another important advantage of SmartLogistics is workload optimization. Thanks to the integrated AI system and its ability to analyze timings, flows and routes, it can keep track of the exact number of transports. In this way, it can ensure a more equal workload distribution. 
Furthermore, the platform also features a customizable dashboard, through which patient transport data can be accessed anytime in full autonomy.
In other words, when it comes to intra-hospital transport Markas continues to develop and invest in SmartLogistics, because it is a
next-generation service
that is indeed designed to put patients at the heart.